TIR Destiny CG Commercial LED Flood Light
From doityourselfchristmas.com
TIR Destiny CG Commercial LED Flood Light
Disclaimers
The standard disclaimers pertaining to the information contained on this wiki page are listed here.


What is the TIR Flood?
These are commercial RGB outdoor DMX floodlights designed and sold by TIR Systems Ltd.. They are Model Number: Destiny CG-WGO-RGB-CUS-V2 These lights were originally mounted on the Duke Energy Building and were replaced with other RGB fixtures. DIYC member rfallatt arranged to buy over 300 lights from the building and offered them to users via a group buy in August 2012. There was a mixture of working and bad units sold. The bad units suffered from water entering either the control module or the power supply and shorting out the boards. It appears that the water may have wicked up the inside of the power and data cords and caused the issues. Some of the bad units had the glass face plate broken. TIR Systems (in Canada) were considered the leader in outdoor LED systems and were also popular with large dance halls. They were a public stock company until 2007 when Phillips purchased them. They appear to have shut down operations in late 2008. The manufacture date on the units is late 2008, and based on information, they units were removed from service in 2010.

Manufacturer's Description
Effective grazing illumination up to 30' with smooth gradient
Effective projector flood light up to 30'
Available with narrow or wide asymmetric optics
Uniform color mixing with 48 Luxeon® LEDs
DMX512 compatibility for dynamic color control
TIR® Thermal management system protects electronic components from heat damage
Robust construction suitable for outdoor applications
Operational and environmental benefits of LED technology

How does the TIR Flood work?
These are RGB flood lights that are controlled via DMX and possibly via an unidentified ethernet based protocol. There is a 5 pin XLR DMX connector that comes configured for DMX input only. Out of the box these units respond to DMX channels 1-3 (RGB) when powered up and connected to a signal source. The address programming packets have been decoded and there are several ways to program new DMX addresses into the units. These units will fall back to a test sequence if the DMX signal is not applied. The test sequence is a series of color fades. The units also come with a ethernet cable attached and the control protocol has not been established for using it.

Dimensions of the TIR Flood
Full Fixture (with all connectors) H 14.5 X W 16.5 X 5.5 and ~26 lbs

TIR Flood Components
Connectors
The units come equipped with a 15A 125vAC 3 Pin Twistlock power plug, a RJ45 ethernet interface cable and a 5 PIN XLR DMX cable attached. The power and DMX cable come out of the base of the mounting bracket thru the waterproof cable holders. The ethernet cable is tucked inside the base of the mounting bracket and has a rubber waterproof sleeve on the end.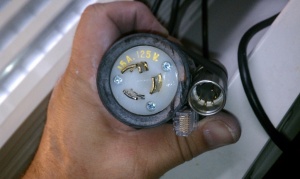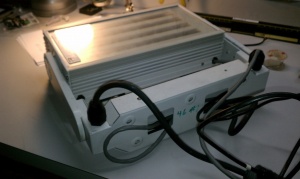 Housing
The main housing has the sealed LED Assembly attached to the front and has an internal compartment on the back that is open to the environment that houses the waterproof Control Module and the waterproof Power Supply.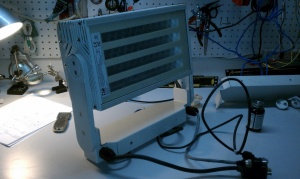 LED Assembly
The flood lights have 48 Luxeon LEDs mounted in a sealed module on the front of the unit. There are 16 each of Red, Blue and Green. The LEDs are mounted on two PCB boards. The LEDs are arranged in a 2x6 array for each color on the upper PCB and 1x4 on the lower PCB. This video shows how to test the LED Assembly when removed from the housing.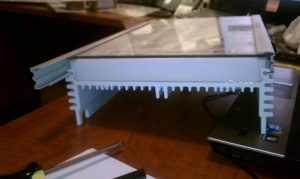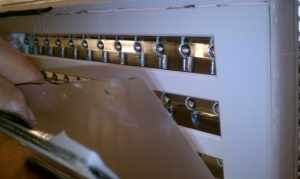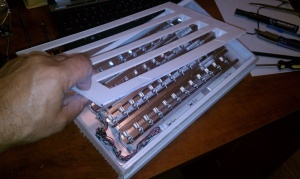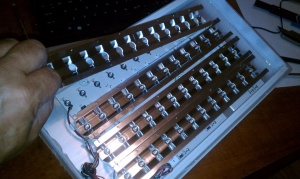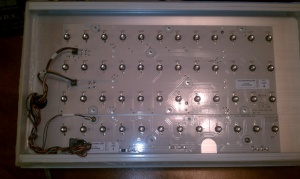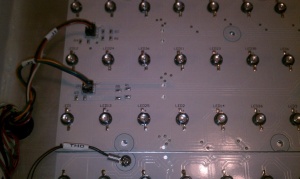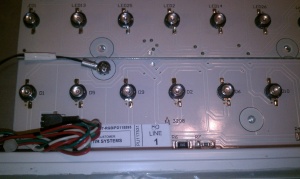 Control Module
There is a control module that drives the LEDs and responds to the DMX commands provided to it thru the DMX interface. The Control Module is mounted inside a waterproof housing and is attached to the rear heatsink with a generous amount of heatsink compound. Inside of the Control Module there a main control board with a Ethernet Module daughter board. The ICs on the main control board are listed below.

| | | | |
| --- | --- | --- | --- |
| IC Location | Part Number | Description | Datasheet |
| Q1-Q15 | IRL510S | Power MOSFET | http://www.vishay.com/docs/90380/90380.pdf |
| U2 | LM2676 | (ACTIVE) SIMPLE SWITCHER High Efficiency 3A Step-Down Voltage Regulator | http://www.ti.com/lit/gpn/lm2676 |
| U3,U8,U12,U16 | HC4066 | QUADRUPLE BILATERAL ANALOG SWITCH | http://www.ti.com/lit/ds/symlink/sn74hc4066.pdf |
| U4 | LM1117 | 800mA Low-Dropout Linear Regulator | http://www.ti.com/lit/ds/symlink/lm1117-n.pdf |
| U5,U7,U9,U10 | LMH6644MA | 3V, Low Power, 130MHz, 75mA Rail-to-Rail Output Amplifiers | http://www.ti.com/lit/gpn/lmh6644 |
| U6 | LM2902D | QUADRUPLE OPERATIONAL AMPLIFIERS | http://www.ti.com/lit/ds/symlink/sn74lvc4245a.pdf |
| U11,U20 | LJ245A | OCTAL BUS TRANSCEIVER AND 3.3-V TO 5-V SHIFTER WITH 3-STATE OUTPUTS | http://www.ti.com/lit/ds/symlink/sn74lvc4245a.pdf |
| U13,U14,U15 | HC14 | HEX SCHMITT-TRIGGER INVERTERS | http://www.ti.com/lit/ds/symlink/sn74hc14.pdf |
| U18 | LD71D1048C | 10 bit PWM controller / 48 Channel Output LED DRIVER | http://www.ldt.co.kr/common/app_inc/download.asp?file_nm=/data/bbs_Display_Driver_IC_1/LD71D1048C.pdf |
| U21 | VP3085 | Low-Power RS-485 Transceivers | http://www.ti.com/lit/ds/symlink/sn65hvd3082e.pdf |
Ethernet Module
There is an ethernet module mounted inside the control module. It appears that this is the main processor for the lights. The DMX address and serial number of lights are programmed into this unit. The ethernet interface to this module has not been identified yet. Technical Information about the Netburner ethernet module. The NetBurner module uses the ColdFire MCF5282 processor. Using the Netburner IP program, one user got the following response "MOD5282 Unit: at 192.168.1.47 running :LuminaireFX (3081041) $Date: 2005/02/04 18:42:48 $, $Name: B_Dma6Aug2004_MainTest $".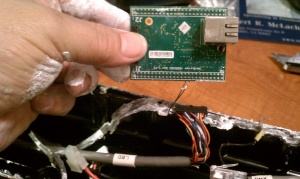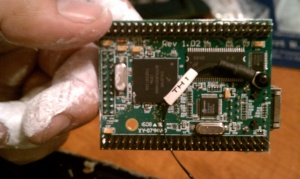 Power Supply
The power supply is a 100-240 VAC input and 24.5VDC 3.3A output. The power supply is sealed in a waterproof enclosure and the wires come through the enclosure via waterproof sealing glands. The power supply has an input power cord on one end and has a red and black 16ga wire on the other end that connects to the control housing. Midway between the power supply and the control housing there is black shrink wrap on the red and black power leads. If you carefully remove the heat shrink, you will find blue "bullet" type connectors that can be separated by pulling them apart. With the power cord bullet connectors apart, you can them test the power supply output to see if the power supply is working. You can also apply a different 24vdc power supply to the control module to see if it is working.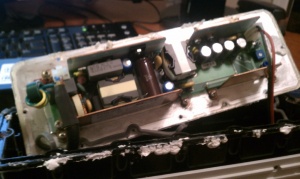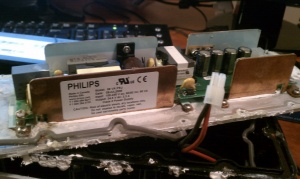 Mounting Bracket
The unit comes with a mounting bracket that is adjustable.

Disassembling the TIR Flood
Main Body Separation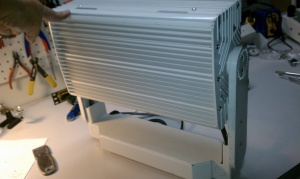 Remove the 3 screws with washers near the rounded back edge on both side panels near the bracket attachment.
Remove the 2 screws near the rounded back edge on the other two side panels above the heatsink.
Lift the rounded rear panel off to expose the Control and Power Supply Modules.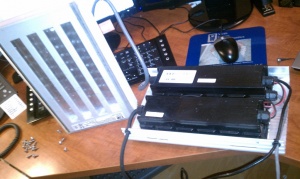 Removing the Power Supply or Control Module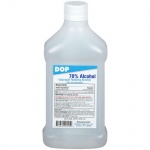 Be aware that the power supply and control modules are mounted to aluminum plates. These plates are then mounted to the heavy external enclosure.
Between the mounting plate and the enclosure is white thermal grease. This grease makes quite the mess.
There is an easy way to clean this grease that is inexpensive and safe for people. If you try to remove it with a standard cleaner like 409, it will only smear the grease and not remove it.
Instead, you can use Isoprophyl Alcohol. Any Percent purity is fine. This is the stuff that is less than $1 a bottle and available at any drug store or pharmacy section like at WalMart.
It will dissolve the grease and is safe for contact with human skin! Wear gloves when removing the units to keep the thermal grease off of you.

Some of the units appear to have been repaired in the field and have large amounts of silicone caulking around the base of the modules. You will need to cut away the caulking with a sharp knife and pull the caulking out with pliers.
Loosen the four screws that hold the black plastic housing and base plate to the light housing. You may need to use pliers to remove the screws since they are held in place by heat sink compound. Wear gloves, there is a lot of thermal heat sink compound behind the base plate. Wedge a paint scraper or other thin object between the aluminum base plate on the module and the back housing. Gently pry them apart. The thermal heat sink compound holds the unit tightly in place, but it will pry apart if you have removed the 4 screws and any excess caulking that may be present.
Opening the Power Supply or Control Module
Loosen the Waterproof plastic nuts on the wires entering on both sides of the module to allow the wire to slide through it when you remove the plastic housing.
Turn the module over and remove the 8 screws that hold the base plate to the black plastic housing.
Gently pry the black plastic housing from the base plate with a flat edge screwdriver, it is held in place by a sealant/gasket.

Removing the Twistlock Power Plug
Firmly grasp one pin of the plug with a pliers.
Gently pull back on the rubber boot while pulling on the plug. It may help to stretch the edges of the boot to make it come out easier. The boot will slide back down the wire off the plug.
Unscrew three screws on the face of the plug and unscrew the two screws retaining the cord on the back of the plug.
Slide the assembly out and unscrew the three screws holding the wires in.
The wire color code is listed here.

TIR Flood Power Requirements
The units come equipped with a 15A 125vAC 3 Pin Twistlock power plug. At 100% brightness RGB the flood draws 78 watts @116.5vAC.
The internal power supply provides 24vdc @ 3.3A to the control electronics. A quick test of the current draw for the LEDs and controller shows that each color draws about 1.2A per color and a total of 2.8A for all three colors when full on.

| | | | |
| --- | --- | --- | --- |
| Current (A) | Red (%) | Green(%) | Blue(%) |
| 0.08 | 0 | 0 | 0 |
| 1.17 | 100 | 0 | 0 |
| 1.17 | 0 | 100 | 0 |
| 1.17 | 0 | 0 | 100 |
| 2.24 | 100 | 100 | 0 |
| 2.24 | 0 | 100 | 100 |
| 2.24 | 100 | 0 | 100 |
| 2.78 | 100 | 100 | 100 |
AC Power Cable
| | |
| --- | --- |
| Conductor | Wire Color |
| Line | Brown |
| Neutral | Blue |
| Ground | Green/Yellow |
Controlling the TIR Flood
The flood comes equipped with a 5 pin XLR DMX connector. Only the input wires are connected to the XLR connector, but the output wires are also available and they can be soldered to the plug. The lights can be controlled by sending a DMX signal to the lights on channels 1-3 to control the RGB lights. It is believed that these floods were controlled by a software package called LuminaireFX. This is the Control software developed by TIR for this unit. It's a control system for their "TBus" option.

DMX Wire / XLR Connector
The data connection to the flood light is thru a 5 pin Male XLR DMX connector. Only the input DMX lines are soldered to the plug. The output wires are in the cable and are active. The input and output wires connect together in the control module. There is no DMX termination resistor on the light.

| | | |
| --- | --- | --- |
| Signal | Wire Color | XLR Pin |
| DMX IN Shield | Bare Wire in Red Foil | 1 |
| DMX IN + | Red Wire in Red Foil | 3 |
| DMX IN - | Black Wire in Red Foil | 2 |
| DMX OUT Shield | Bare Wire in Green Foil | NC |
| DMX OUT + | White Wire in Green Foil | NC |
| DMX OUT - | Black Wire in Green Foil | NC |
Schematic
A detailed schematic is not available.
There are two LED boards, the upper one with 36 LEDs and the lower one with 12 LEDs. The upper board consists of 2 circuits with 6 LEDs each for each color and the two circuits are powered thru the separate connectors. The lower board consists of 1 circuit with 4 LEDs for each color and has it's own power connector.
An analysis of the voltage and current draw of the LED circuit boards is here.

LED Current
0.20A
0.25A
0.30A
0.35A
Top Array (6 LEDs)
Red
15.8V
16.7V
17.3V
18.0V
Green
17.6V
18.0V
18.3V
18.7V
Blue
19.5V
19.9V
20.2V
20.5V
Middle Array (6 LEDs)
Red
15.8V
16.5V
17.3V
17.9V
Green
17.6V
18.0V
18.3V
18.6V
Blue
19.4V
19.9V
20.1V
20.4V
Bottom Array (4 LEDs)
Red
12.2V
13.3V
14.3V
15.3V
Green
12.6V
13.1V
13.7V
14.1V
Blue
12.9V
13.1V
13.3V
13.4V
The following photos show the highlighted traces on the LED PCBs by LED color.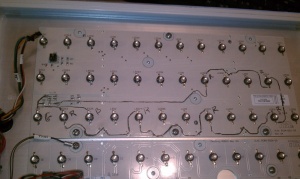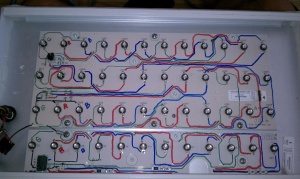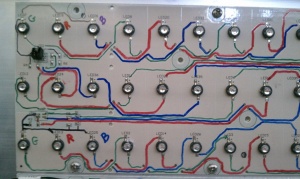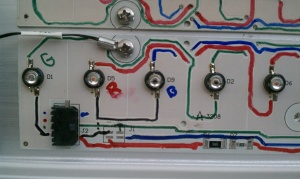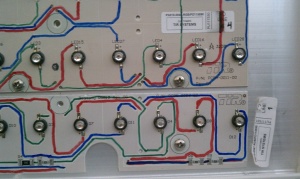 Internal Wiring Color Codes
There is a cable going from the LED panel to the controller, and is grey and marked "LED". It's close to a 25 pin cable, but only 14 wires go to the LED panel. Convention is that the first color is the full wire color, and the second/third colors are the stripe or dash of color printed on the wire.

Lower LED board J2 (4 LEDs per color)
| | | |
| --- | --- | --- |
| LED Connection | Wire Color | LEDs |
| Common (+) | Red/Green | D1 - D12 |
| RED | Red/Black | D5 - D8 |
| GREEN | White/Black | D1 - D4 |
| BLUE | Green/Black | D9 - D12 |
Upper LED board (6 LEDs per color)
Upper section JP2
| | | |
| --- | --- | --- |
| LED Connection | Wire Color | LEDs |
| Common (+) | Black/Red | LED7-12,LED19-24,LED31-36 |
| RED | White | LED19 - LED24 |
| GREEN | Black | LED7 - LED12 |
| BLUE | Red | LED31 - LED36 |
Lower section JP1
| | | |
| --- | --- | --- |
| LED Connection | Wire Color | LEDs |
| Common (+) | Orange/Red | LED1-6,LED13-18,LED25-30 |
| RED | Orange | LED13 - LED18 |
| GREEN | Green | LED1 - LED6 |
| BLUE | Blue | LED25 - LED30 |
Thermistor
There is a thermistor attached to a screw on the LED panel. Leads from this are White/Red and Blue/Red

LED Connector
This is the connector marked LED that goes into the controller board. It's a 24 pin dual header. Haven't gotten the measurements yet, but here's the wire connection. Pin 1 is upper left corner as if the connector is plugged into the board. Pin 13 is below pin 1, and closest to the tabs/keys that stick out of the bottom of the connector. Wires are coming up at the viewer. I need to draw a picture, but hopefully that will give folks a good idea.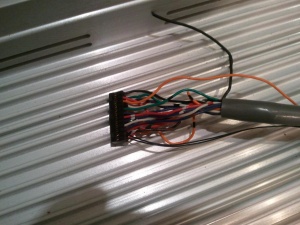 | | |
| --- | --- |
| Pin Number | Wire Color |
| 1 | White |
| 2 | Green |
| 3 | Blue |
| 4 | Red/Black |
| 5 | Orange/Black |
| 6 | Black/White |
| 7 | Green/White |
| 8 | Black/Red |
| 9 | Orange/Red |
| 10 | Red/Green |
| 11 | Black/Red/White |
| 12 | Red/Black/White |
| 13 | Black |
| 14 | Red |
| 15 | Orange |
| 16 | White/Black |
| 17 | Green/Black |
| 18 | Blue/Black |
| 19 | Red/White |
| 20 | Blue/White |
| 21 | White/Red |
| 22 | Blue/Red |
| 23 | Thermistor \ |
| 24 | Thermistor / attached to Netburner module |
The wires appear to match up, in that the common positive for the 3 sections are pins 8, 9 and 10. Upper LED connections are 1, 13 and 14. Middle LED connections are 2, 3 and 15. Lower LED connections are 4, 16, 17.

Replacement Power Supplies
Non-OEM Replacement Power supplies are available from Ray Wu and DIYLEDEXPRESS.COM

Replacement Control Modules
Non-OEM replacement for the Control Module options include a DCSSR driven by a controller such as the REN48LSD, Simple Renard 32 or the REN64. The REN48LSD and the Simple Renard RGB+W CAN NOT drive these lights directly due to the high current demand per channel (~1.2A), you must use a DCSSR. A Standalone DMX Controller is available as a replacement controller as well. You must also use an additional constant current limiter if you use any replacement controller. On the LED board, each color channel consists of three separate LED circuits that each need to be separately limited to 0.3A each, so you need a total of 9 constant current limiting devices per flood. Simple constant current drivers for each of the 9 circuits can be build using LM317 voltage regulators in a constant current configuration using resistors like this or this. A TIR Breakout board has been designed to provide constant current sources for the individual LED arrays.

TIR LED Breakout Board

A TIR Breakout Board has been designed and is being sold in a TIR Breakout Board Group Buy. This board allows you to power the LED boards directly with a 24vdc power source. To protect the LEDs from burning out, it is necessary to independently provide a constant current source to each of the 9 LED arrays. This design provides the ability to drive 9 LED arrays with 3 inputs. The design makes use of a LM317 configured to provide a constant 0.3A per LED Array using a circuit like this.

Breakout Board BOM
| | | |
| --- | --- | --- |
| Part Number | Description | Quantity |
| 538-87831-2420 | Headers & Wire Housings 2MM HDR. 24 CKT. Vert. SMT | 1 |
| 511-LM317T | Linear Regulators - Standard 1.2-37V Adj Positive 1.5 Amp Output | 9 |
| TBD | 4.3 Ω 1/2W Resistor | 9 |
| TBD | 5.6 Ω 1 W Resistor | 2 |
| TBD | 13 Ω 2 W Resistor | 2 |
| TBD | 16 Ω 2 W Resistor | 1 |
Breakout Board Schematic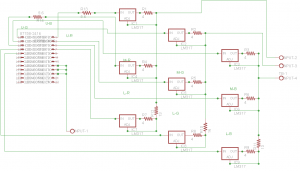 Other Information
Another Hint: These units may have been controlled by "ControlFX Initializer Software", a Windows®XP application to set DMX addresses of the luminaires using the ControlFX Initializer hardware interface. ControlFX Initializer Device The DMX 512A standard comprises 255 "alternate START codes". The START code is the first byte of data transmitted across a DMX network. TIR Systems has registered START code 37 (hex) for its exclusive use. ControlFX TM Initializer Device refers to a piece of hardware produced by TIR Systems that is used to initialize its luminaires using START code 37. Only TIR®luminaires should recognize data sent with a start code of 37.

US Patent 7394210 is a TIR Patent on controlling DMX lights.

The control module essentially performs four functions:
Read incoming DMX512 packets;
Read the thermistor for temperature derating;
Cycle through various color effects; and
Drive the digital-to-analog converters.
The DMX512 code produced by the SelectFX controller was non-standard, with a non-NULL packet header designed to communicate color effect and timer synchronization information to the Destiny controller.

The units all have a unique serial number that is listed on the label on the front face plate as well as a standalone sticker on the control module. It looks like: 308-0911. This number will be necessary for programming the lights.

169.254.236.22 is TIR programming box address.

If ControlFX Director does not detect the presence of a DHCP server when connected to your notebook computer, the device will assume a default IP address of 169.254.236.22 and subnet mask of 255.255.0.0.

DMX Address Translation Board
Since these light responds to DMX Channels 1-3 out of the box, a board is under development to respond to any DMX address and translate it to channels 1-3 to drive these floods. For more info look here.

Documentation
Destiny CG Quick Start Product Guide
Destiny CG Wiring Schematic
Destiny CG Datasheet
Internet Archive Listing of old TIR Systems Web Pages

Software
DMX Address Change Software
Thanks to a lot of detective work by the DIYC community the DMX address programming packets have been decoded and you are now able to reprogram the lights to any DMX address. There are several tools available to set the address:
Reprogramming with just Vixen and an Enttec Pro compatible DMX dongle
Vixen Based Solution using modified PIC
Arduino Based Solution
SX based Solution
Address Packet Generator

Light Management
ControlFx Designer Software: Used to sequence and program light functions
ControlFX Designer User's Guide
ControlFX Designer Quickstart Guide
ControlFX Director Quickstart Guide: Hardware Interface that the PC uses to communicate with the lights.

Light Initilization
ControlFX Initializer User's Guide
ControlFx Initializer Quickstart Guide
TIR Initializer/Director Computer Set Up Guide

Light Design and Emulation
Destiny Wizard: Used to emulate light output

Netburner
IP Setup tool
UDP Terminal Application
Using the Netburner IP program, one user got the following response "MOD5282 Unit: at 192.168.1.47 running :LuminaireFX (3081041) $Date: 2005/02/04 18:42:48 $, $Name: B_Dma6Aug2004_MainTest $".

TIR Flood Discussion Threads
Initial Thread
Initializer Software
DMX Address Change Details
Netburner Module
Flood Fixer DMX Address Translation board

TIR Breakout Board
TIR Breakout Board Group Buy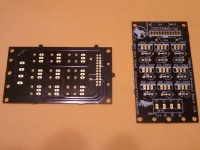 DMX Cable Adapter Boards
DMX Cable Adapter Board Group Buy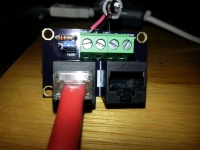 Video
Test Pattern
Outdoor Test
Another outdoor test

Other Photos
A single TIR Flood lighting a house about 15 feet from the front door, pointed slightly upward.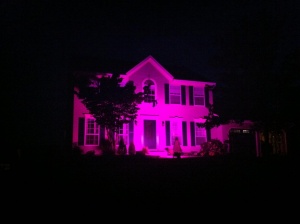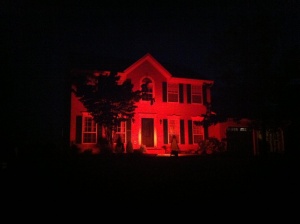 FAQ
TBD