Main Page
From doityourselfchristmas.com
ChristmasWiki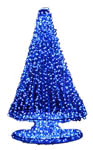 Welcome to the ChristmasWiki! This is the official wiki for the DIY Christmas display community.
Here you will find all sorts of information - from how to hang Christmas lights, to PCB designs for special hardware to flash those lights, to software that makes it all work together.

Everything you read here is a contribution from the members of DoItYourselfChristmas.com. If you would like to make a contribution, please do as we all have ideas to share. The more content we have, the better we become.
Contributions do not have to be specific to Christmas. Information here can include anything that can or is used for any holiday display like Halloween or the 4th of July. It can be a simple trick to make your display easier to put up and take down, or a detailed set of instructions for building an amazing prop. If we get a small contribution from every member then we will have the largest collection of How-Tos and Tips of any display-oriented site on the Internet. So let's all write up an article or two.
Categories
| | | |
| --- | --- | --- |
| | DIYC Beginners Info | Starting point for beginners to get familiar with DIYC. |
| | Software | Vixen, HLS and other forms of software to control lights or for other lights-related purposes. |
| | General Information and Tips | General information and tips, from quick tips, to conceptual-level documents, to detailed wiring descriptions. |
| | Display Construction | How to construct items for your display. |
| | Electronics Hardware | Electronics hardware you can build to control lights or other items. Includes general overviews and documentation for various designs. |
| | RGB Lighting | An in-depth look at RGB lighting. Information about "Dumb" RGB, Intelligent Pixels, Wiring, and Controllers. |
| | Protocols | An in-depth look at how light controllers, computers, and other devices communicate in a light show setup. |
Other areas of DoItYourselfChristmas
The ChristmasWiki has been organized through the use of wiki categories. Categories can be accessed via the links at the bottom of each wiki page. Each page also has a link to the DIYC Index category which lists all the pages and categories contained in the wiki.

The ChristmasWiki is basically organized in the following manner: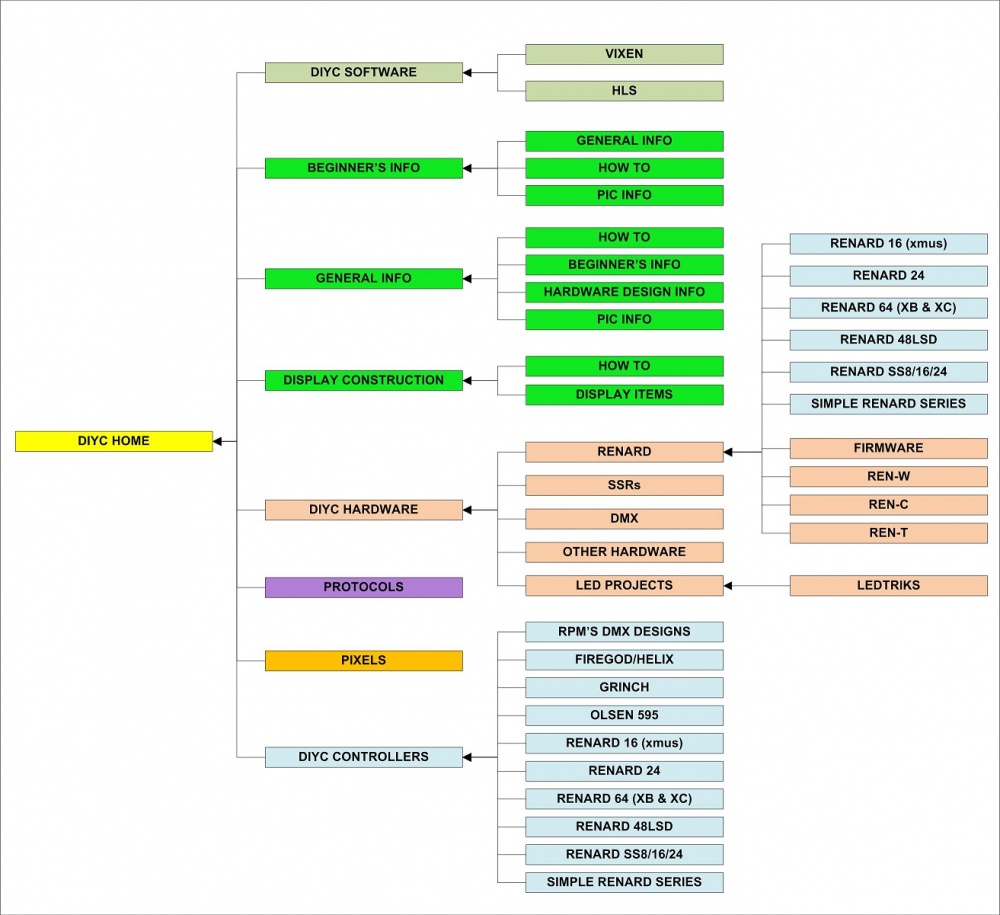 Editing the ChristmasWiki
If you do decide to make a contribution, please follow the format that is currently being utilized. Your article should have its own page and be linked to from the most appropriate category page.

When uploading images, please try to keep them sized at 200px x 150px, or smaller/larger depending on how it will be used.

Please use Section Headers (with equals signs) to divide the content on your pages. This allows a Table of Contents to be generated and also makes the article easier to read.

The below links do not point to any content on this site. They point to the MediaWiki support pages.
Consult the User's Guide for information on using the wiki software.
Glossary
A full Glossary of terms specific to our hobby is provided.