Qwiki Tips
From doityourselfchristmas.com
Identifying Light Strings:
One easy way that you can identify light strings (this is good for mega tree's and mini trees) is to take some spray paint and mark the top of the plugs with the color of the with an appropriate paint color. Alternatively you could get color coded zipties and place them on the string next to the male plug. The color of the ziptie indicates the color of the string.
Ex: Red strings get a red ziptie and green strings get no ziptie.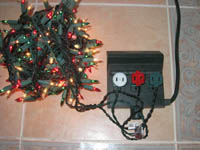 Easy Light Storage:
Balling up your lights makes them easy to store, and put up next year. ChristmasDisplays.net How-To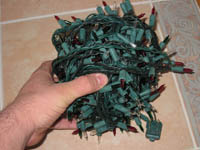 Anchors/Guy Lines:
If you have ever put out an inflatable or 3D wireframe deer you know the small thin metal spikes they come with pull out of the ground rather easily. In a high wind the display piece may blow away all together, this is very frustrating. I use plastic tent stakes to anchor down most of my display pieces. They do a great job and I have not had even one pull out yet. You can get them in the camping section at any general merchandise store like Walmart, Kmart, and Target. I also use standard Masons Line to guy the items such as 6' spiral trees and inflatables to the stakes. Masons Line is the fluorescent colored string that can be found at home centers. Yes it may be bright orange or bright pink but it is thin and it is very strong. You will not see the string in the dark but you will see it during the day when you are walking through your display for maintenance. No more being clotheslined by the fishing line you can't see.
Tips for a display that looks good in the daytime
Cover your SSRs with black plastic or ziploc bags, or put them inside.
White cables tend to stand out the most, sometimes even more than orange extension cords!
Put SSRs and controllers behind bushes, inside mini trees or blowmolds, or inside the garage or house.
Keep cable runs together with cable ties or tape.
Try to cut cables to the exact length they need to be - not too short, or you will be cutting corners to get them where they need to go, resulting in an untidy mess.
If a cable is too long, put the excess length in a hidden place (in controller enclosure, in garage, in gutter) rather than laying the excess in a heap in the open.
Paint enclosures and display elements a color that blends in, preferably black.
Use the green extension cords in grass and brown cords in beds, for highly visible runs, even if they are more expensive.
I have heard it is possible to use rit dye or something to darken bright cables.

When uploading images, please try to keep them sized at 200px x 150px